Turn Up the Heat
Scorching New Adult Contemporary Romance

Release Day Blitz
JESSE (Damage Control 2)
by Jo Raven
SYNOPSIS
Returning to Madison hurts. I thought I'd left my past behind, but the past goes on living. I carry it inside of me, it's a piece of me. People have marked me in indelible ways and I drag the shreds of my soul behind me, trying to put my pieces back together. I'm not the Amber I used to be. I fly under the radar, try to be invisible.
It doesn't always work. Drawing attention scares me. It always spells trouble. Returning to my home town is a last ditch effort to lay my demons to rest and start anew, for good this time.
Meeting Jesse Lee wasn't in the plan. Yet here he is with his heart-stopping, sexy grin, handsome like a god, shining bright. He's full of life, full of heat, packing the energy of a thousand suns in his gaze and muscular body. Jesse burns, and the pain of being near him is sweet.
But he's foiling my plans. It's hard to remain a ghost when he's around. Hard to avoid his attention, to remain invisible. He sees me, really sees me, and behind his bright radiance, I can see shadows from his own past crowding in. He's swimming hard to stay afloat even as he reaches for me.
What is he afraid of? And how can he save me from drowning when he can't even save himself?
Standalone novel. No cliffhanger.
*Warning: this book contains graphic language, sex, and violence. Mature readers only. Not intended for young readers.*
Buy Links for JESSE – low release week price!
Book 1 in the series is currently FREE!
Find MICAH here: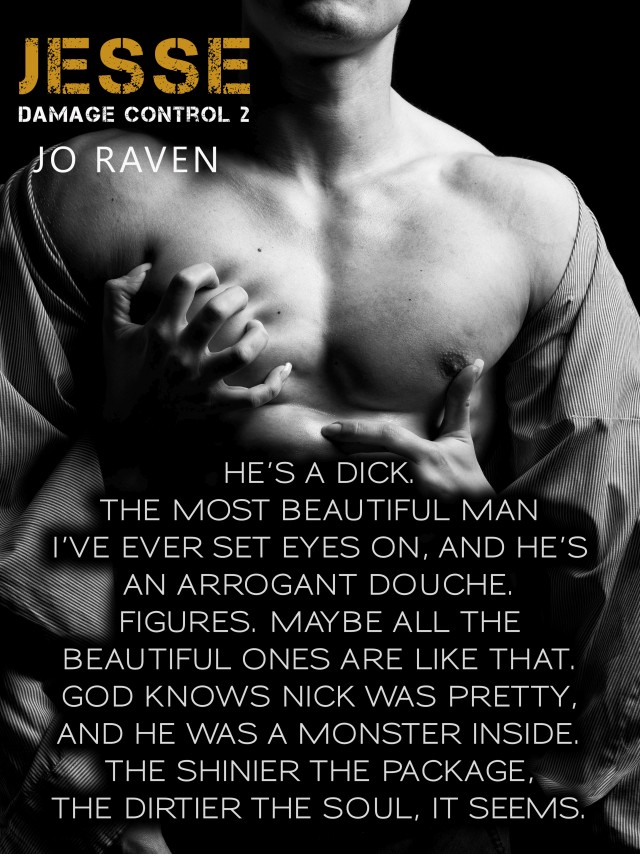 EXCERPT
"Embers?" He lifts a dark brow, and I try to unstick my tongue from the roof of my mouth.
Kind of hard with all that muscled, male, inked flesh in full display in front of me. He's shirtless, and oh God, his nipples are pierced. Silver hoops pass through the small brown nubs, gleaming. His bare chest is sculpted and hard, from his pecs to the cut abs and the fine dark trail of hairs leading into the waistband of his gray jogging pants.
Sweat glistens on his skin, on the colorful ink covering his arm, the swirls and lines dipping from his left shoulder down to a defined pec. A demon is tattooed there, stylized wings and a monstrous head, fading into the purple and blue of other, older-looking tats. And then of course there's the cobra I noticed on his arm the other day.
"Hey," I say vaguely, my brain on shut-down. I swallow hard, try again. "What does the cobra stand for?"
Both his brows arch now, eyes wide, their green-blue irises crystalline in the morning light. He glances down at his arm, then back at me. "What?"
"What does the snake stand for?" I wave in his direction, wondering if I should cut my losses, turn about and run away right frigging now. Being antisocial is one thing – seeing it in action is another.
As I'm about to turn and run, one corner of his mouth curls up.
"You're funny," he says, and it stops me in my tracks.
"No, I'm not."
"Yes, you are, trust me." He grins. "How about we start again. Good morning, Embers."
If flames jump from my cheeks, it won't surprise me. "Morning."
"Would you like to come inside?" he says, that sexy grin lingering on his full lips. "There might be coffee."
"No, thanks." The need to flee is worse than ever, only I'm caught in his spell and can't move. He's staring at me, giving me a lazy, slow once-over, from the top of my head to my toes curling in my sandals.
"What, no pet name for me today?"
Oh God, what am I doing here? "Cut it out, Jesse. Don't be an ass."
I expect a witty comeback, but instead something shutters behind his bright eyes, and strangely, I feel guilt wash over me. He rubs a hand over his face and slumps against the doorframe, muscles rolling in his arms.
"This is who I am, Embers," he drawls, closing his eyes. "What you see is what you get. I told you that you'd get tired of me soon."
But for the first time, I'm not so sure about that.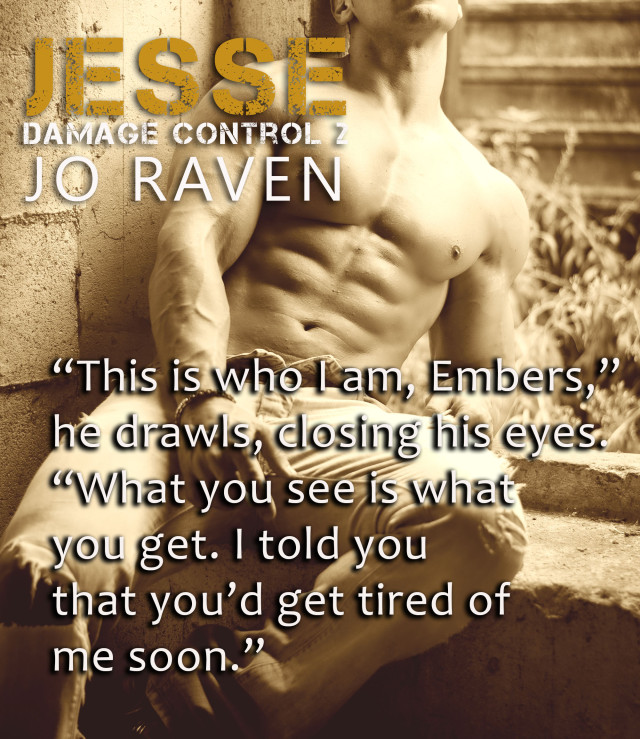 Author Bio and links
Jo Raven writes New Adult contemporary romance. She loves sexy bad boys and strong-willed heroines, and divides her time between writing and reading. When not cooking up plots, she putters in her cluttered kitchen and dreams of travelling.
Links
Facebook: https://www.facebook.com/authorjoraven
Twitter: https://twitter.com/authorjoraven
Goodreads: http://bit.ly/1rf8drw
Amazon Author Page: http://amzn.to/1huhvxy
Blog: http://www.joraven.com/
Sign up to newsletter: http://bit.ly/1CTNTHM
Don't Be Shy. Get In Touch.
If you want to know about new releases, subscribe and I will let you know as soon as they are published!